Image: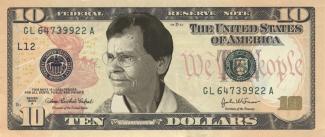 Dear Colleague:
The Genetics Society of America (GSA) is writing to encourage you to support a grassroots campaign to nominate pioneering geneticist Barbara McClintock to be the new face of the $10 bill.
In response to an announcement from Treasury Secretary Jacob J. Lew that the new $10 bill would "feature a notable woman," a group of graduate students at the University of California, Davis, launched the Barbara on the Bill campaign. And earlier this week, GSA's Executive Committee agreed to endorse the students' effort.
Here's what you can do to help:
Sign the Barbara on the Bill petition to show the groundswell of support from the community: http://www.barbaraonthebill.com/take-action
Share your support directly with the Treasury Department by posting on Facebook, Twitter, and Instagram using the hashtag #TheNew10.
Encourage your colleagues, neighbors, family, and friends to join the campaign. Share with your department, community, and network, and encourage others you know to get involved. (Barbara on the Bill Website, Facebook, Twitter).
Among a long list of achievements over several decades, McClintock is probably best known for the discovery of mobile genetic elements ("jumping genes"), for which she was awarded the 1983 Nobel Prize in Physiology or Medicine; she remains the only woman to win the prize unshared.
McClintock is no stranger to GSA. She served as the Society's 1939 Vice-President and the 1945 GSA President. She was honored with the Society's inaugural Thomas Hunt Morgan Medal in 1981 for lifetime achievement in the field of genetics.
On behalf of the Society's elected leadership, we hope you will join GSA in supporting efforts to have one of the giants of genetics honored on our currency.
Sincerely,
Adam P. Fagen, PhD
Executive Director