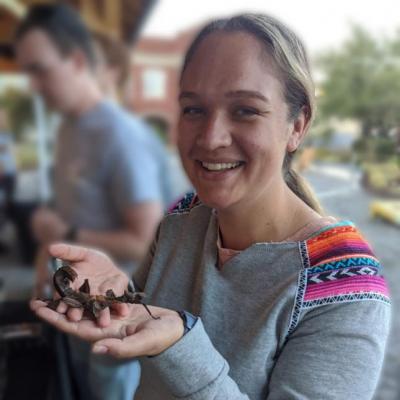 Lab:
4505 Miller Plant Sciences
Lab Phone:
4609 Miller Plant Sciences
Research

Research Interests:

My research interests include the evolution of firefly morphology and signaling. I want to know how fireflies' eyes and antennae have changed over millions of years and how that relates to the signals they use to find mates.

Grants:

2019 Department of Plant Biology Palfrey Grant, conference travel
2019 PBGSA Research, Teaching, and Outreach Award, conference travel
2017 BYU Graduate Mentoring Award, undergraduate mentoring and research travel
2014 BYU Orca Grant, research travel
Selected Publications

Selected Publications:

Pacheco, Y.M., G.J. Martin, and S.M. Bybee. 2016. On the Phototactic Response of Rwandan Diaphanes Motschulsky (Coleoptera: Lampyridae) to a Trap with a 630Nm Red Light. The Coleopterists Bulletin. 70(3): 559 – 561.
Education

Education:

2018 Admission to the PhD Program in Plant Biology Department at the University of Georgia.

2018 M.S. Department of Biology, Brigham Young University, M.S. thesis "Ecomorph Convergence in Stick Insects (Phasmatodea) with Emphasis on the Lonchodinae of Papua New Guinea".

2015 B.S. Exercise Science, Department of Exercise Science, Brigham Young University
Other Information