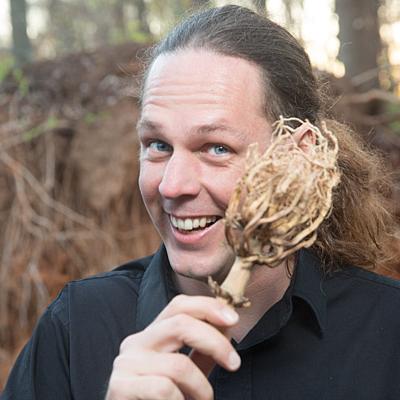 Associate Professor
Plant Biology; Warnell School of Forest Resources; Institute of Bioinformatics
Office:
Miller Plant Sciences, Rm 2611
Biography

Alexander Bucksch received his PhD from the Delft University of Technology in the Netherlands in 2011, where he developed the first algorithm to measure complete tree crowns from laser scanned trees. He then moved as a PostDoc to the Georgia Institute of Technology where he was jointly appointed between the School of Biology and the School of Interactive Computing and began to work on root phenotyping. In 2016, Dr. Bucksch joined the faculty of UGA as an Assistant Professor with joint appointment in the Department of Plant Biology, the Warnell School of Forestry and Natural Resources and the Institute of Bioinformatics.  He leads the computational plant science lab which combines computer vision and shape analysis to analyze the topological and geometrical characteristics of plant architecture. The lab is best known for DIRT (Digital Imaging of Root Traits, http://dirt.cyverse.org), which is the world's largest root phenotyping platform with over 620 users in over 40 countries. Dr. Bucksch is a founding member of the Georgia Informatics Institutes and the Plant Phenomics and Robotics Center at the University of Georgia. He received the 2020 Early Career Award from the North American Plant Phenotyping Network and the NSF CAREER award in 2019 to quantify and simulate the phenotypic spectrum of roots that he presents today.
Research

Research Interests:

Alexander Bucksch develops innovative computational methods to study plant organizational levels from a computational and mathematical perspective. He expands to plant science the mathematical concept of "shape descriptors," which reveal the state and growth of complex structures. Using imaging instruments and simulation models, Bucksch captures spatial arrangements of branches, roots, and other organs that together form complex morphological phenotypes. His interdisciplinary methods have led to discoveries of phenotypes on scales ranging from populations to gene regulatory elements, that had been hidden to classically trained biologists. Bucksch's work increases understanding of plant adaptions to changing environments, which could benefit crop yield and public health. More than 700 researchers use his methods through the world's largest root phenotyping platform, Digital Imaging of Root Traits.
Selected Publications

Selected Publications:

2020: DIRT/3D: 3D phenotyping for maize (Zea mays) root architecture in the field
Liu, S., Barrow, C., Hanlon, M., Lynch, J.P., Bucksch, A.
Pre-print Bioarxiv. 

2020: Image-based root phenotyping links root architecture to micronutrient concentration in cassava
Busener, N., Kengkanna, J., Saengwilai, P.J., Bucksch, A.
Plants, People Planet. (in press)

2020: From lab to field: Open tools facilitating the translation of maize root traits
Salungyu, J., Thaitad, S., Bucksch, A., Kengkanna, J., Saengwilai, P.J.
Field Crops Research. 255,107872

2019: Architectural and anatomical responses of maize roots to agronomic practices in a semi‐arid environment
Zhan, A., Liu, J., Yue, S., Chen, X., Li, S., Bucksch, A.
Journal of Plant Nutrition and Soil Science. 182(5), pp. 751-762

2019: Phenotypic variation of cassava root traits and their responses to drought
Kengkanna, J., Jakaew, P., Amawan, S., Busener, N., Bucksch, A., & Saengwilai, P.
Applications in plant sciences, 7(4), e01238.

 

 

 

 

 
Education

Education:

06/2011-06/2016 PostDoc, joint between Biology and Interactive Computing, Georgia Institute of Technology, United States
12/2005-04/2011 Ph.D., Optical and Laser Remote Sensing, Delft University of Technology, The Netherlands
10/2001-05/2005 M.Sc. and B.Sc., Information and Media Technology, Technical University of Brandenburg, Germany
Other Information

Of note:

04/2019 NSF CAREER Award
08/2017 Fellow of the UGA Leadership Institute     
10/2016 IPPN Root Phenotyping Working Group Early Career Travel Award
10/2016 Publons Top Reviwer Award: Agricultural and Biological Sciences 
10/2015 GeorgiaTech College of Computing Outstanding Presentation Award, 2nd Annual Postdoctoral Research Symposium
02/2015 ISPRS Journal of Photogrammetry and Remote Sensing Certificate for Outstanding Contribution in Reviewing
05/2014 Gordon Conference on Image Sciences Scholarship
12/2005 Albrecht von Haller Institute for Plant Sciences Full-time Ph.D. Fellowship (2 years, research carried out at TU Delft)