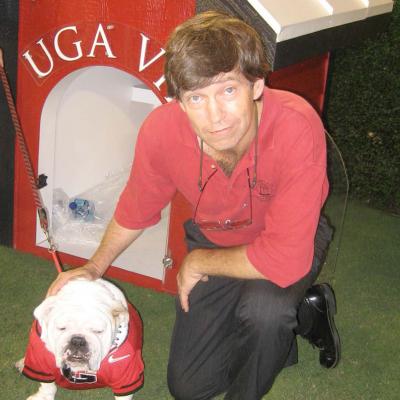 Regents Professor and Director of Plant Genome Mapping Laboratory
Plant Biology; Genetics; Crop & Soil Sciences
Office:
Center for Applied Genetic Technologies, Rm 228
Research

Research Interests:

My lab studies intrinsic genetic properties that make plants different from other organisms and from one another. In particular, selected plants have become crops because of unique attributes that also make them valuable as botanical models. Crop genetics thus offers the opportunity to increase basic scientific knowledge and apply it to contemporary needs. Our priorities are to explore basic principles of genetics and evolution in the genomes of angiosperms, and to accelerate assembly of the genomic frameworks that will permit such principles to be applied to the study and improvement of major crops.

Grants:

Dr Paterson has secured $28.2 million, including $18.5 million as Principal Investigator (40% of which supported his colleagues), and $9.7 million as coinvestigator
on awards totaling $38.1 million to his colleagues. He has secured two competitive training grants of $108,000 (PI) and $1.6 million (co-PI), one regional economic development grant ($600,000), and has helped 37 scholars to secure $1.24 million to study in his lab. He is the PI on a non-cash award (est. $8 million) from the US Dept of Energy Joint Genome Institute Community Sequencing Program" to sequence the 736 Mb sorghum genome, and two non-cash
awards (est. $2 million) to initiate (1.5 Gb) sequencing of Gossypium raimondii.
CGIAR-Generation Challenge Program. Discovery and development of alleles contributing to sorghum drought tolerance. 10/08-9/11.
National Science Foundation. The evolution of gene position and function inArabidopsis. 10/08-9/12.
National Science Foundation PGRP. Comparative and evolutionary genomics of cotton. 1/09-12/13.
National Science Foundation-PFI. Scaling a new adaptive peak for cotton. 9/09-8/12.
National Science Foundation-DBI. Plant Genome Duplication Database. 9/09-8/12.
DOE-USDA. Accelerating the domestication of Miscanthus. 9/09-8/12.
Selected Publications
Education

Education:

Ph.D Plant Genetics, Cornell University 1988
Other Information